Elevating Homes with Unparalleled Residential Roofing Excellence, Introducing Sargon Roofing & Restoration
Your home is more than just four walls; it's where memories are made and dreams take flight. At Sargon Roofing & Restoration, we understand the importance of having a secure and beautiful roof over your head. Our residential roofing services are designed to provide you with peace of mind and a roof that stands the test of time.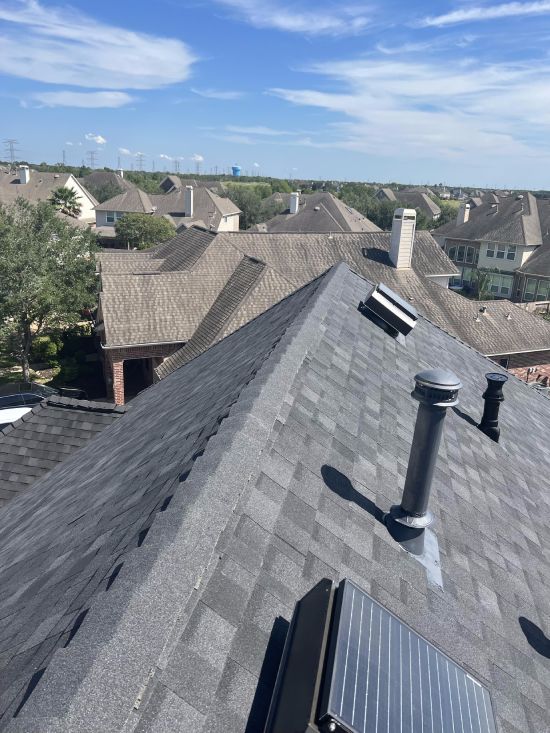 Reasons to Make Us Your Residential Roofing Experts
Expert Craftsmanship: With over two decades of experience, our roofing experts bring a wealth of knowledge and skill to every project. Whether it's a minor repair or a complete roof replacement, we take pride in delivering top-tier craftsmanship that speaks for itself.
Quality Materials: We believe that a durable roof starts with quality materials. That's why we source our products from trusted manufacturers, ensuring that your roof can withstand the elements and remain resilient for years to come. As CertainTeed Shinglemaster Certified installers for Attic Breeze, Certified IKO installers, and Owens Corning Certified, our commitment to quality and expertise is unmatched.
Certifications: As Certainteed ShingleMaster Certified installers, we have undergone rigorous training and met the highest standards set by Certainteed, a leading manufacturer of roofing materials. Our expertise extends to Attic Breeze, as we are certified installers of their innovative ventilation systems. Additionally, as a Certified IKO Installer and Owens Corning Certified contractor, we have proven our proficiency in installing roofing systems with products from these respected manufacturers.
Personalized Approach: Your home is unique, and so are your roofing needs. Our team takes the time to understand your requirements and preferences, tailoring our solutions to match your vision perfectly.
Attention to Detail: We leave no shingle unturned! Our meticulous approach to every aspect of the roofing process ensures a flawless result that adds value to your home.
Timely and Efficient: We know that roofing projects can disrupt your daily life. That's why we work diligently to complete the job efficiently without compromising on quality.
Hand Nailed Roofing
Nail-down roofing, also known as nailed roofing, is one of the most popular methods for attaching shingles to a roof structure. This technique utilizes nails or roofing fasteners to attach each shingle, creating a strong and dependable seal that can stand up to extreme weather conditions. With our team of highly experienced professionals at Sargon Roofing & Restoration, we specialize in providing top-notch nail-down roofing installations. We use precise hand-nailing techniques that ensure every shingle is securely in place, guarding your home against water damage and gusty winds while protecting the underlying structure. Whether you're searching for a complete replacement or building your dream house, our nailed roofing solutions offer dependability and lasting performance.
Comprehensive Residential Roofing Services
Roof Inspections: Our thorough roof inspections identify any issues or potential problems, allowing us to address them before they escalate.
Roof Repairs: From leaks to damaged shingles, we'll restore your roof's integrity, keeping your home safe and dry.
Roof Replacements: If it's time for a new roof, we offer a wide range of roofing materials and styles to suit your preferences, including asphalt shingles, metal roofs (standing seam), windstorm roofs (hand nailed), and impact-resistant shingles.
Roof Maintenance: Regular maintenance ensures your roof stays in top shape, extending its lifespan and preventing costly repairs.
Roof Ventilation: Proper ventilation is crucial for a healthy roof and a comfortable living space. We'll ensure your attic breathes freely.
Personalized Roofing Solutions for Every Homeowner – Choose from the Good, Better, and Best Packages with Sargon Roofing & Restoration
We proudly offer three comprehensive estimate packages – Good, Better, and Best – designed to provide a solution for every homeowner. No matter your budget or requirements, our range of packages ensures that you can find the perfect fit for your roofing project. Explore our options today and discover the quality and value that Sargon Roofing & Restoration delivers.
Connect with Us for Trusted Residential Roofing Services in Kingwood and Beyond
Protect your home and everything it holds dear with Sargon Roofing & Restoration. Contact us today at (833) 472-7466 to schedule a consultation for your residential roofing needs. Follow us on Facebook and Twitter for more insights and updates. Let's give your home the roof it deserves!