Flexible Financing Options for Your Home Restoration, Metal Roofing, Remodeling Services, and More
At Sargon Roofing & Restoration, we believe that everyone deserves a safe and beautiful home without financial stress. That's why we offer flexible financing options to help you embark on your roofing and restoration projects with ease. Whether you need financing for metal roofing or bathroom remodeling, we've got you covered.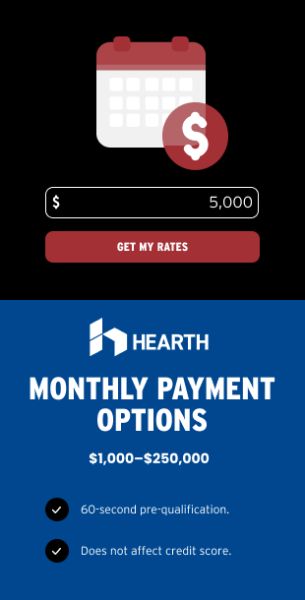 Opt for Our Tailored Financing Solutions
Budget-Friendly Solutions: We understand that roofing and restoration projects can be significant investments. Our financing plans are designed to fit your budget, allowing you to spread the cost over manageable monthly payments as we offer Hearth Financing.
Quick and Easy Approval: Our financing application process is hassle-free and quick, with swift approvals to get your project started promptly.
Transparent Terms: We believe in transparent communication. Our financing options come with clear terms and no hidden fees, ensuring you know exactly what to expect.
More Than Roofing: Whether it's a residential roof replacement, storm damage repair, or a complete kitchen remodel, our financing covers a wide range of services to meet your needs.
How Our Financing Works
Consultation: Schedule a consultation with our team to discuss your roofing or restoration project and explore financing options tailored to your requirements.
Application: Our simple financing application can be completed on-site or online. We'll guide you through the process and answer any questions you may have.
Approval: Once your application is submitted, we'll review it promptly and provide you with approval details.
Start Your Project: With financing in place, you can now confidently start your roofing or restoration project without delay, knowing that your investment is well-supported.
Discover the Power of Transformation with Our Flexible Financing Options
Give your home the care and attention it deserves with our financing options. Take the first step toward a better home by contacting us at (833) 472-7466 to discuss financing options for your project, whether it is metal roofing or kitchen remodeling. Stay connected with us on Facebook and Twitter for valuable insights and updates. Let us help you achieve your dream home without the financial burden. Your comfort and satisfaction are our priority, and our financing options are here to make it happen.